Of all the experiments Pride Fighting Championships tried in its wild and wonderful decade of existence, few were stranger than the "Pride the Best" series. Where Pride's flagship numbered events packed huge venues such as Saitama Super Arena, the three "Pride the Best" shows took place in 2000-seat halls like the now-defunct Differ Ariake, that were the usual province of indie pro wrestling and smaller MMA organizations like Deep. For an added layer of weirdness, alone among Pride events, those events utilized an eight-sided ring.

The nominal purpose of the "Pride the Best" shows seemed to be bringing in new talent for the promotion, which would be nothing strange and in fact would have been a forward-thinking move at the time—think of Dana White's Contender Series today. However, the shows themselves belied that strategy; the cards did include some future stars, but were also packed with veteran journeymen such as "Dirty" Bob Schrijber, sub-.500 fighters like Shannon Ritch and Soichi Nishida, and worst of all, Joe Son. Twice.

Pride the Best, Vol. 2, which took place on July 20, 2002, was probably the best of the three. Its ten-fight lineup is notable for featuring the Pride debuts of Alistair Overeem and future UFC middleweight contender Yushin Okami. In one of the most heinous squash matches in Pride history, Overeem was matched with Yusuke Imamura, who was 1-2 going into the fight, with his lone win coming against Son, perhaps the worst fighter of all time. The result can be seen below.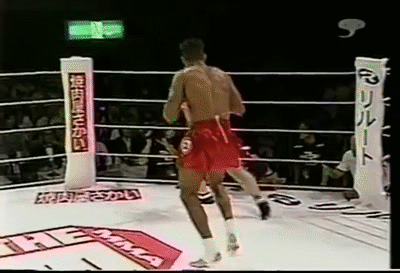 The "Pride the Best" events were an obscure curiosity even at the time, practically unfindable even for those North American fans who were used to sourcing Pride cards by shady means. To this day, they are notable for their absence from the fight library on UFC Fight Pass.